Robotic knee surgery
Dinesh has been using technology in partial and total knee replacements for 17 years. Use of robotics and computer-navitaged surgery improves the accuracy of operations and speeds up recovery time.
The robot is a hand-held mechatronic device which is totally controlled by the surgeon to help them position implants to suit a patient's anatomy. Aided by a computer, the surgeon can site the knee replacement more precisely. This can improve longevity and potentially reduce the risk the implant will become loose, wear out more quickly or not function properly.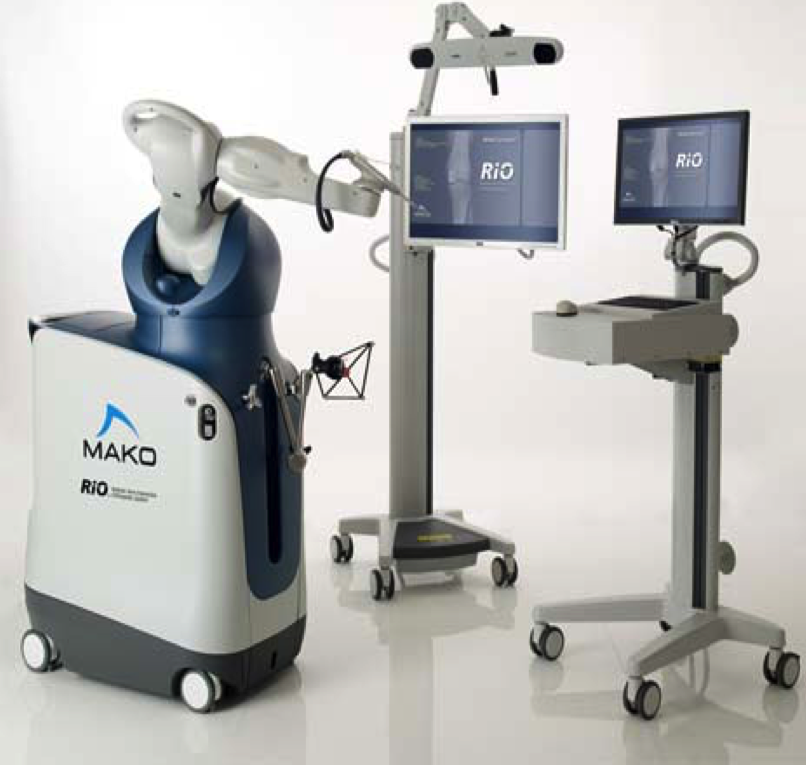 MAKO Robotic Interactive Orthopaedic Arm
Navigation surgery also makes the cuts more accurate because less bone and tissue, such as ligaments and cartilage, needs to be removed. All cuts can be checked accurately in real time during surgery so that any mistakes or errors can be rectified. With conventional surgery by contrast, errors are often only seen once the patient is mobile and has had an X-ray after the operation.
Initial alignment and balance
One of the reasons navigated surgery has not been more widely adopted is because operations can take around 20 minutes longer. Additional time is needed to set up the technology and to ensure the actual knee matches the implant plan. There is no increase in the rate of infection or other complications, however.
As well as accuracy, one of the biggest benefits is a quicker recovery rate. Navigated and robotic surgery can also reduce the complications experienced when only part of a knee is replaced. These operations can be technically-difficult, but by using robots potentially more procedures can be performed safely.
Read more: the robot revolution in knee surgery